Dandom's products by Daily Grace Enterprise is an original recipe perfected over years of concoction by a home cook who also happens to be a food technologist by profession. Her passion for cooking and quality control experience in the manufacturing industry has greatly helped in developing this product to quality standards. 
In just four years of selling to Tuna Shops and BBQ stalls in General Santos City, the company was able to put up a modest processing plant which was given accreditation by the Food and Drug Authority or FDA. This FDA accreditation has paved the way to supply groceries in the city such as the KCC Mall and has also given them the privilege to promote their product in the widest possible way they can.
As a local enterprise in the city, this company aims to bring economic opportunities to small farmers in the countryside as well as marginalized women in their community who are employed in their processing area. Thus, the company has partnered with rural farmers in a nearby Sarangani municipality who grow chilies as well as those who produce suka or coconut sap.
On the other side of the coin, being a local producer they take pride in producing products made only from the freshest ingredients because of the abundant supply they have in the region. Coupled with passion and industry experience, they aim to create the best products and bring these into the global market in the future.
Want to make your recipe extra flavorful and special? 
Level up your food with just a pour or a scoop! Dandom's products allow you to be adventurous in your cooking and food journey. It will definitely enhance the flavor of any dish making every meal extra special!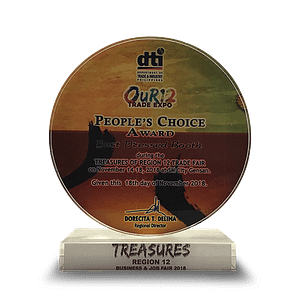 Awarded as BEST DRESSED BOOTH during the Treasures of Region 12 (SOCCSKSARGEN) Annual Trade Fair on November 14-18, 2018 at SM City Gensan.